RPA( Robotic Process Automation)
Automating rules-based human tasks through software robots, artificial intelligence and advanced analytics for the modern digital enterprise. Automation Anywhere Enterprise is architected to match every step of the RPA journey. Designed for the business user, the platform helps avoid complexity and enables rapid deployment and fast adoption.
Automation Anywhere Enterprise is optimized for the business user and includes advanced capabilities for developers and administrators. It has the shortest learning curve and is consistently recognized as the easiest to use, most intuitive interface in the industry — for the bot developer, the automation administrator and the business user. 
The only platform
that's proven to scale to 1000's of bots
End-to-end visibility and control with a central control room
Bank grade enterprise
security, Secured, Scalability & Reliability &
 Automation Anywhere:  Enterprise RPA –  Highly Deployed Digital Workforce System
Automating human activities based on laws for the new digital economy by automated robots, artificial intelligence, and advanced analytics. Automation Anywhere Enterprise was designed to fit each phase of the RPA journey. The platform, designed for the business user, helps to reduce complications and allows fast implementation and acceptance.
What makes enterprise 11 stand out?
Automation Anywhere Enterprise is designed for corporate users and involves developers and administrators with unique capabilities. It has the shortest learning curve and is widely known as the industry's most user-friendly, intuitive interface— for the bot designer, automation administrator, and business client.
Automation Anywhere Enterprise is the only RPA platform in the industry today that has been proven to scale — rapidly and securely — to 1000's of bots. There are 650,000+ Automation Anywhere bots currently in production with numerous enterprises running thousands of bots. Enterprise 11 makes it easier than ever to deploy and scale large digital workforces across multiple geographies and business units.
Workload Management (WLM)
Optimize and prioritize your digital and human workload to meet the most dynamic service level agreement (SLA) demands. Much more than a queue management system, WLM is designed to ensure the most efficient use of all available resources with minimal switching costs. It enables administrators to prioritize high-value tasks and processes based on business value. WLM has built-in SLA calculators and an RPA-as-a-Service capability through integration with BotFarm™ — the industry's first and only platform that enables on-demand computing resources to meet increased demands.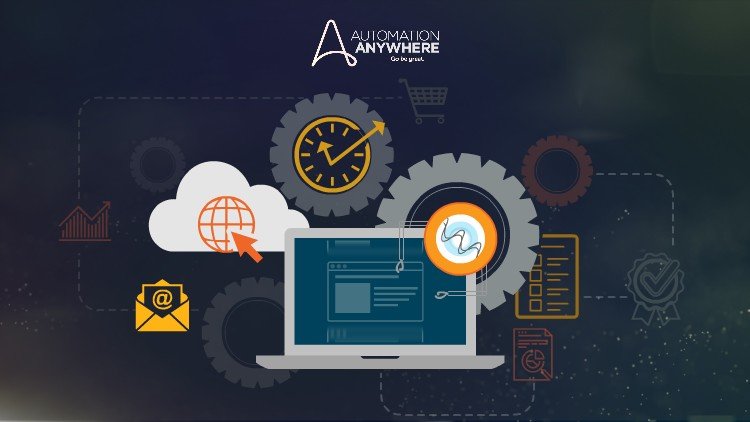 Bot Lifecycle Management (BLM)
Employ software development lifecycle (SDLC) best practices in the bot development lifecycle for repeat success in an enterprise environment. Continuously test and deploy bots and bot dependencies with complete version control and rollback features. BLM provides a framework for bots to "graduate" from successive lifecycle stages as defined by the enterprise (development, testing, acceptance, and production, or DTAP). Meet stringent compliance mandates such as Capability Maturity Model Integration (CMMI) Level 5 certification and Sarbanes-Oxley (SOX) regulations.
Business Continuity With High Availability (HA)/Disaster Recovery (DR)
Typical business continuity solutions only provide recovery at the server level. Full-fledged HA/DR in Enterprise 11 provides recovery protection down to the bot level and across multiple locations to cover every process and every device enterprise-wide.
Cloud-Ready Architecture
Install on-premises or on leading cloud platforms — Amazon Web Services (AWS) and Microsoft Azure. These cloud platforms provide infinite scale and flexibility to meet demanding deployment needs of large enterprises
Building on a solid framework for security, Enterprise 11 provides improved functionality for administrators to establish new and execute existing company-wide security procedures — just from a central point of view.
1- Integration with CyberArk
Enterprise 11 involves collaboration with CyberArk, the pioneer in privileged account security, which counts as its customers over half of the Fortune 100 companies. A third-party database implementation for both humans and bots is a safe and convenient storage solution for sensitive data of all sorts, including user credentials.
2- Credential Vault 2.0 With Locker Management
In addition to integrating with best-of-breed security solutions such as CyberArkTM, Enterprise 11 also features a native credential vault to maintain and manage any delicate application-related data such as user credentials, account numbers, and social security numbers. The client machine does not store this sensitive information.
4- Highly Granular Role-Based Access Control (RBAC)
Allow roll-based segregation and resource isolation with precise RBAC deployment across all application aspects — control room, bot runners, bot developers, analytics, credential vault, workload management, bot process management, audit reports, and APIs.
5- Support For Authentication Frameworks
Enterprise 11 embraces all SSL, Kerberos, Microsoft NTLM, and SAML 2.0 for SSO and 2-factor authentication frameworks.
6 -Data Encryption
Both passwords and sensitive data are encoded for rest data with AES–256 and data in motion with TLS 1.2. Furthermore, AES–256 standards obfuscate the bot code.
1- Central Control Room
Control Room acts as a mind of the firm's RPA operation. Use the centralized room to deploy, plan, review, and monitor the online workforce. Control Room is restyled for Enterprise 11 with a highly flexible visual interface that allows for a seamless experience throughout all devices.
The Control Room allows precise planning and performance management for resilient performance and compliance of bots and dependencies.
The microservice-based design supports 1000s of bots and workload variations at peak performance from Automation Anywhere Enterprise.
2- Real-Time Business And Operational Analytics
Enterprise 11 provides advanced business intelligence to provide easy-to-use dashboards and reports with real-time, actionable metrics. It provides predictive operational analytics through the built-in Bot Insight- the most robust RPA analytics system in the business-grade industry. In visual dashboards, both operational and business analytics at the bot level are provided with actionable insights such as bots with the best Return on investment, bots at risk of collapse, and so much more.
3- Audit Trail
Comprehensive support for auditing all events for users. Compliance with SOX criteria.
AISENSE FOR CITRIX AUTOMATION
AISense leverages the technology of AI and computer vision to simplify the most complex systems, even applications exposed to Citrix and other virtual environments, quickly and safely. AISense is extremely responsive to changes in underlying business requirements, changes in resolution and color, and operates even when the relative location of the form and field components changes
FURTHERMORE ENHANCEMENTS
Out-of-the-box OCR software implementation — ABBYY, MODI, Google Tesseract, and TOCR.
Support for international languages by Double-Byte Character Set (DBCS).
Additional assistance for commands in the Japanese language.
Windows 10+ and Windows 64-bit Support
Support for REST API
IQ BOT
IQ Bot is the only AI-based solution
that can be easily set up and used by business users to
automatically read and process a variety of complex
documents and emails, faster.
---
---
BOT Insights
Bot Insight ™ is the only embedded analytics platform—designed specifically for RPA, which provides
business and operational data, in automatic dashboards, without any integration.
---
---
Read Case Studies
Read and explore use cases of Automation Anywhere RPA. Read challenges, solutions & overcome form all industry leaders, they reduced workforce time through digitally deployed RPA tools
---
---
READY TO TAKE THE NEXT STEPS WITH TRIDENT's RPA Solution
Contact us today to schedule a quick chat about your project, or sign up for one of our monthly demos!