When You Connect Your Business With IoT, The Opportunities Are Endless
Bring your business together in new insightful ways with the Internet of Things (IoT) – from increasing process efficiencies to delivering better customer experiences to generating new revenue steams.
Preferred IoT Consulting Partner for Enterprises Globally
Our team helps Enterprises build Systems of Intelligence using IoT Platform to extract real-time insights from their business. We leverage our IoT services expertise to connect thousands of physical assets with Cloud, Mobile devices & backend ERPs/CRMs. Thus, enabling them to harness their enterprise data for creating differentiated competitive advantage, higher business value & highly improved customer satisfaction.
Connected Enterprises with IoT
Create real-time interactions with your customers, field force and physical assets
Anytime, Anywhere Data access
Mobilize your Enterprise, making it securely accessible to employees & consumers
Accelerate Business outcomes
Use your data to derive business intelligence, enabling enhanced decision making
Industry Focused IoT App Development Services
Upgrade from 'Go Digital' to 'Being Digital' with our industry focused Internet of Things services
Retail
Add new revenue channels, deliver superior customer experience & optimize Supply Chain Management with IoT development services for retail.
Retail Supply Chain
Achieve competitive advantage & magnify profits in retail supply chain by optimizing customer retail experience at every square foot of brick & mortar stores.
Smart Shelves
Real-time visibility of stock levels, shelf life of perishable goods & proactive reorder alerts at all levels of manufacturing, distribution & supply
Delivery Operations
Redraw point-to-point delivery mechanisms with smart sensors that reduce carriage distance, delivery span & improve fuel efficiency.
Warehouse Automation
Build automated warehouses that utilizes data from embedded sensors in equipment & bins to optimize stock movement & product assembly.
Interactive digital signage screens
Set up digital signage in the store to attract visitors and help them navigate through your products, discounts, and loyalty programs.
IoT-enabled beacons
For retailers, beacons can prove to be an effective advertising tool that boosts the power of personalization, provides insightful data and increases app engagement and retention.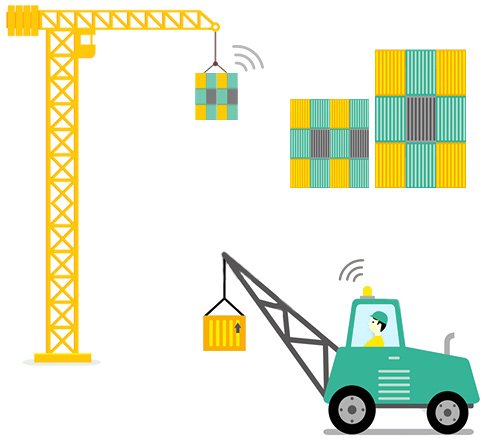 Manufacturing
Breed a whole new range of heavy machinery that work with IoT solution enabled intelligence.
Product Asset Management
Prevent wastage of inventory, energy and man hours through predictive product asset management that sustains best health of assets throughout the production cycle.
Connected Factory
Refresh your factory operations by integrating embedded controller technology consisting of sensors & actuators for remote equipment management, better workforce safety & productivity.
Performance Optimization
Build an ecosystem of connected machinery that work together in collaborative environment to achieve automated production & quicker production cycles at same or reduced cost levels
Safety / Security
Improve employee safety, reduce toxic byproduct production and control several other manufacturing safety issues through sensors that work at levels of the manufacturing unit.
Construction
Imbibe IoT technology grounded management into buildings for a better living experience.
Inventory Replenishment
In a business where time is of essence, ensure that your equipment and construction inventory is always at optimal levels with next-gen IoT sensors.
Remote Operation
Connect, control & manage critical construction equipment from a unified control base. Monitor key metrics like temperature, pressure, vibration, etc. for corrective actions.
Tools & Equipment Tracking
Manage & measure health and vital stats of equipment scattered across vast expanse of construction sites on a real-time basis using sensor based geopositioning
Equipment Servicing & Repair
Schedule maintenance, predict downtimes and remedy performance inconsistencies by analysing & consolidating a deluge of sensor data created by all equipments.
Logistics
Transport and logistics with integrated IoT for sensing and shaping demand and building & adapting supply chain that will result in improved capacity, efficiency, reliability & lower cost.
Fleet Management & Monitoring
Optimize fleet management & vehicle monitoring through onboard sensors that collect onroad information about vehicle & driver behaviour.
Connected Vehicles
Build Vehicle of the future that can merge into their immediate surroundings by reading & transmitting data through sensors.
Remote Vehicle Diagnostics
Empower cognition for vehicles that can remotely diagnose mechanical stats, comfort settings & entertainment consoles
Vehicle Tracking
In-vehicle hardware & software embedment that give real-time insights on vehicle movement, location, health stats & other contextual data.
Energy
Rethinking energy management, billing and asset maintenance with internet of things development for Energy.
Smart Metering
Smart metering that will eliminate manual inaccuracies in billing this rewarding cost savings for customers. Also prepares energy grids for peak time usage through meter data capture.
Asset Performance Management
Preset conditions based maintenance that help reduce asset wear & tear, energy wastage & improves energy generation, transmission & distribution across vast geographical expanses.
Energy Distribution
Connect, control & manage complex energy grids from a single console with a network of connected devices. Predict peak times, prepare for downtimes and sustain consistent energy delivery.
Sandvik Cormorant combines human and digital intelligence into a predictive analytics solution
---
---
Technology Specialists For Food Service Enterprises, Globally. We enable the use of Enterprise mobility..
---
---
A premier Logistics service provider goes cutting-edge with IoT based Fleet management solution to delight its customers
---
---
READY TO TAKE THE NEXT STEPS WITH TRIDENT'S IOT SOLUTIONS
Contact us today to schedule a quick chat about your project, or sign up for one of our monthly demos!