Application Performance Management
Application Performance Management (APM)  Solution powered by Dynatrace has redefined how to monitor today's digital ecosystems. AI-powered, full stack and completely automated, it's the only solution that provides answers, not just data, based on deep insight into every user, every transaction, across every application. The world's leading brands, including 72 of the Fortune 100, trust APM Solution by Dynatrace to optimize customer experiences, innovate faster and modernize IT operations with absolute confidence
Software Intelligence for the Customer-centric Era
Dynatrace provide the only solution in the market, providing all capabilities required to empower digital enterprises with hybrid multi-clouds to deliver great digital customer experience 
Business and Performance Analytics
Digital Experience Analytics
Application Monitoring and  Performance Lifecycle Management
Cloud Container & Infrastructure Monitoring 
The only solution for the hybrid multi-cloud enterprise
Easy to use: Single agent install, auto detects, auto configures. Webscale to 100,000 hosts.
See everything: User, app, logs, databases, hosts, network. All-in-one. Nobody matches our data capture.
Rapid answers: Application Performance Management (APM)   Solution with AI is continually learning, diagnosing, and self-healing. It's superhuman. Because our Application Performance Management (APM)   Solution understands all the components and dependencies of your applications, it can detect and resolve problems before they impact your customers.
Business and Performance Analytics
Gain access to critical business-health data in real-time and in one place. Dynatrace is your one-stop shop for understanding the performance of key business transactions and the effects of customer experience on revenue.
Find out how successfully your latest features are adopted by your customers and know if you've optimized the right entry points. Dynatrace provides facts to accelerate your business with highly accurate real-time insights
Business Transaction Monitoring
Dynatrace monitors every single business transaction end-to-end, with no gaps or blind spots. It shows the execution of each individual request as it travels through your technology stack.
Application Topology Discovery
Dynatrace continuously auto-detects dependencies within your entire application stack. It visualizes your web application architecture end-to-end in real-time.
Dynatrace detects anomalies before they affect your customers. Find out where and why applications break in seconds.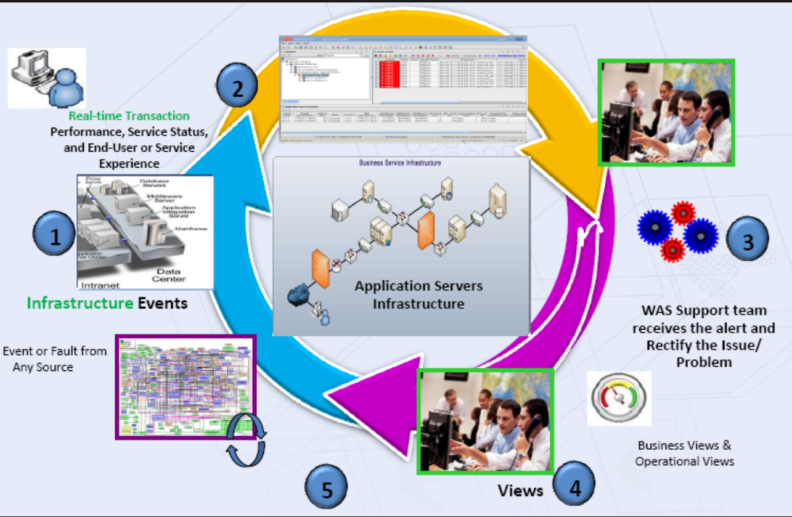 Resolve problems before they impact your customers
Trident's Application Performance Management (APM)   Solution identifies performance issues before your customers are affected by them. Problems are prioritized based on their impact to your customers. So, you always know how severe a problem is and if it's impacting the user experience of your customers.
When critical performance issues are discovered, you don't have to manually interpret dozens of data sources to know the root cause.
Dynatrace provides a single problem notification that identifies the root cause of the problem.
Because you don't need to invest time into finding problems, you can focus on fixing them.
Proactively identify the potential impact of problems on your customers
Application Performance Management (APM)  artificial intelligence not only automatically pinpoints the underlying root cause of a performance problem, it also automatically quantifies the impact that problem has on your customers.
Each problem notification generated by the anomaly detection engine includes a business impact analysis that shows the number of impacted users and service calls for each affected application.
Immediately see where and how performance issues affect customers.
Prioritize troubleshooting to focus on problems that impact many users, not just a couple of outliers.
See exactly which user actions and service methods are affected.
Cloud Support
 Application Performance Management (APM)  on Dynatrace has been built from the ground up with dynamic environments in mind. Dynatrace seamlessly integrates with your cloud and container environments. Monitor containerized applications in dynamic Docker environments out of the box.
Integrates seamlessly with no configuration
Monitoring with Dynatrace is easy, as it should be. Dynatrace monitors your containerized applications without touching your images or modifying your run commands. Dynatrace automatically detects the creation of new containers and monitors the applications and services contained within them.
Ready for microservices and micro-deployment
Dynatrace is designed to deal with highly dynamic infrastructure where containers come and go frequently. By monitoring your containers with Dynatrace you're all set for the monitoring of microservices and the associated micro-deployments, which are commonly delivered via Docker containers.
Scales with your elastic environment

……
Monitoring with Dynatrace is easy, as it should be. Dynatrace automatically scales with your environment by discovering and monitoring new containers. Track deployments of your Dockerized microservices and monitor distributed applications across your network of hosts or cloud instances
Application monitoring & performance lifecycle management
Deep-dive application monitoring Monitor and optimize application performance and business transactions at scale with gap-free code-level data. Dynatrace captures every transaction, across every tier, without gaps or blind spots.
Pre-configured dashboards provide all relevant metrics down to the SQL statement and code level.
In under five minutes OneAgent automatically discovers your entire application stack.
DevOpsBiz support using Dynatrace
Ops receives the right intelligence to avoid outages and performance degradations
Dev speeds up new capabilities to market with confidence through faster feedback on quality, performance and scalability of code changes pushed out
Business owners gain real time insights into user experience to make better competitive decisions.
Dynatrace seamlessly integrates with your DevOps
Application Performance Management (APM)  powered by Dynatrace empowers organizations to redefine monitoring as Cloud native enterprises mature from CI to CD to DevOps to NoOps. We help companies:
Master the velocity and complexity of operations
Shift-Left and find performance issues early allowing only "good builds" to reach production
Shift-Right into business teams and get developers engaged with production for fast improvements
AI-enabled monitoring helps dev, test, ops and business teams light up cloud-based apps.
Dynatrace seamlessly integrates with your Testing tools like J-Meter and ticketing tool like Jira.
Application Performance Management (APM)  pwered by Dynatrace has built in automatic feedback mechanism to point out the root cause of any scalability, performance degradation in the application during load, performance and regression testing. This helps customer to identify the bottleneck early in lifecycle and fix it quickly.
READY TO TAKE THE NEXT STEPS WITH TRIDENT's APPLICATION PERFORMANCE MANAGEMENT
Contact us today to schedule a quick chat about your project, or sign up for one of our monthly demos!